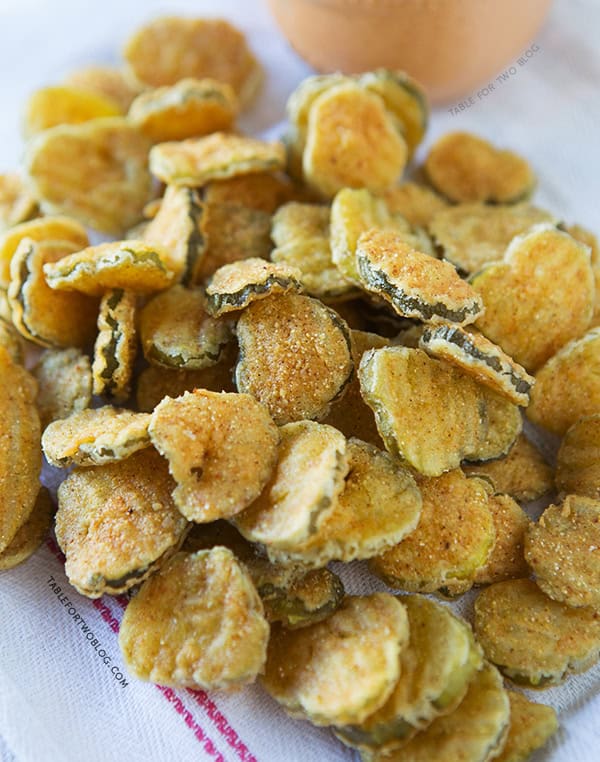 We've been asked time and time again why we don't serve fried pickles at the markets. The answer? It's because pickle people don't do so well around a hot fryer! Fear not, though because we're about to bestow on you the BEST recipe for fried sweet pickles anywhere. Enjoy!
Ingredients:
Dipping Sauce:
1/4 cup mayonnaise
1 tablespoon drained horseradish
2 teaspoon ketchup 
1/4 teaspoons Cajun seasoning
For the pickles:
Peanut or vegetable oil, for frying
1/2 cup all purpose flour
1 3/4 teaspoons Cajun seasoning
1/2 teaspoon Italian seasoning
1/2 teaspoon cayenne pepper 
Kosher salt
2 cups Dr. Pickle Sweet Pickle Chips drained
Directions:
Make the sauce by combining the above ingredients and set aside in a bowl.
Heat 1 inch peanut oil in a pot over medium heat to 375 degrees F. Meanwhile, whisk the flour, Cajun seasoning, Italian seasoning, cayenne pepper, 1/2 teaspoon slat and 1/2 cup water in a large bowl until smooth. Spread the pickles on paper towels and pat dry.
Add half of the pickles to the batter and toss to coat. Remove from the batter using a slotted spoon, letting the excess drip off, and add to oil one at a time. Fry until golden brown, 1 to 2 minutes; remove with a slotted spoon and drain on paper towels. Return to the oil to 375 degrees F and repeat with the remaining pickles and batter. Serve immediately with the prepared sauce.